Service Information
Window Cleaning Service Starts At

$199

Visiting Hours :

09:00 am - 05:00 pm

Call Us At :

+1 631-487-8404

E-mail Us At:

info@cleanhamptons.com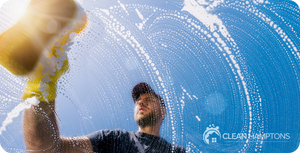 Window Cleaning
Welcome to Clean Hamptons | Window Cleaning. We provide Residential and Commercial Window Cleaning in Southampton and the entire The Hamptons, NY | Palm Beach, FL | Miami, FL. All of our Professional window cleaners have been trained on how to properly clean windows, mirrors, sills, and tracks. If you're looking for a local window cleaner that you can trust. Clean Hamptons is here for you. We are family owned and operated, our window cleaner in Southampton will clean your windows leaving them streak free, guaranteed! Our Team of uniformed window cleaners have undergone background checks and are fully equipped with Person Protective equipment (PPE) in order to help prevent the spread of COVID-19. If you are looking for Easthampton window cleaning services, carpet cleaning or power washing in The Hamptons, get in touch with us.
Sill & Track Cleaning
Screen Cleaning
Acid Water & Hard water stain removal
Hard Water Stain Removal
Mirror & Glass Cleaning
Screen Cleaning
Skylight Cleaning
Reviews

Clean Hamptons came to do the end of season shrink wrapping of all the outdoor furniture and accessories. They were on time, neat, clean and professional. We look forward to using this company next year.


Clean Hamptons did an amazing. No little details were overlooked. And they went the extra mile to make sure our house looked awesome. My house has never looked as shiny and the windows are crystal clear! You are not only getting hard work, but they have invested in world class technology to clean your house in a world class and safe method! I would recommend them to everyone and am!
Read More


Clean Hamptons gave us a prompt competitive price, showed up on time, and did a superb job. Our gutters were filthy, we had green mold on the poolhouse, and our cedar shingles were discolored and splotchy. We were concerned about our landscaping being affected by the process too. Everything we needed cleaned came out looking like new and the plants were all carefully protected. All in all it was a professional and personable interaction, and frankly a pleasure to experience. I would offer my unqualified recommendation for this company.



Voted #1 In The Hamptons






Frequently Asked Questions
How Often Should I Clean My Windows?

We recommend cleaning your windows a minimum of once a year, this will help eliminate the minerals that cause hard and acid water staining. (examples: dirt, insects and other organic material). We do have some customers that have us come more often though. You can have the interior cleaned once a year and the exterior twice a year to save on cost. If you are on the ocean, we recommend cleaning your exterior windows Bi-Weekly
What Is Soft Washing?

Soft washing is the process of applying cleaning detergents at low pressure and then rinsing the solution and any contaminants off the surface with a low pressure stream of clean water. This is the most recommended way to clean your roof and home.
How Long Does A Cleaning Take?

Window Cleaning on the avg home takes about 4-6 hours.

For Complete House wash (Power Washing) we normally need about 5 Hours

Other cleaning, such as auto, RV, and boat detailing, depends on the size and how much cleaning needs to be done.

When you request a quote, let us know exactly what needs to be done and we'll provide an estimate!
Do You Wear Shoe-Covers When Inside My House?

Yes. We have shoe-covers that we put on when entering your home, whether you have hard floors or carpeted areas, we use these to prevent any damage to your property.
What If I am Not Happy With My Cleaning?

Although so far we have an incredible record of satisfaction from our clients, we still consider ourselves a socially responsible company. Therefor, we understand that there are times when more cleaning needs to be done. If for any reason you are not satisfied with your cleaning, call us within 48 days of service and we will be more than happy to address any concerns you may have – even if that means an entire re-cleaning. At the end of the day, we are not happy until you are 100% satisfied.
What Are Your Service Areas?

We Provide:

Window Cleaning - Screen Cleaning - Skylight Cleaning

Power Washing - Pressure Washing - Soft Washing - Roof Cleaning

Disinfecting - Sanitizing

Mobile Detailing - Marine (boat) Detailing

Southampton, NY 11968 - Water Mill, NY 11978 - Hampton Bays, NY 11946  - Bridgehampton, NY 11932  - Sagaponack, NY 11962 - Sag Harbor, NY 11963 - East Quogue, NY 11942 - Peconic, NY 11958 - Wainscott, NY 11975

Boca Raton, FL 33431 - Boca Raton, FL 33432 - Boca Raton, FL 33433  - Boca Raton, FL 33434 - Boca Raton, FL 33428  - Boca Raton, FL 33486  - Boca Raton, FL 33487 - Boca Raton, FL 33496  - Boca Raton, FL 33498

Boynton Beach, FL 33472  - Boynton Beach, FL 33473 - Boynton Beach, FL 33426  - Boynton Beach, FL 33435  - Boynton Beach, FL 33436  - Boynton Beach, FL 33437

Canal Point, FL 33438

Delray Beach, FL 33444 - Delray Beach, FL 33445  - Delray Beach, FL 33446  - Delray Beach, FL 33483 - Delray Beach, FL 33484 - Greenacres, FL 33413

Jupiter, FL 33458 - Jupiter, FL 33469  - Jupiter, FL 33477 - Jupiter Farms, FL 33478

Lake Park, FL 33403 - Lake Worth, FL 33463 - Lake Worth, FL 33467 - Lake Worth, FL 33460  - Lake Worth, FL 33461  - Lake Worth, FL 33449  - Lantana, FL 33462  - North Palm Beach, FL 33408  - Pahokee, FL 33476  -

Palm Beach, FL 33480  - Palm Beach Gardens, FL 33410  - Palm Beach Gardens, FL 33418 

Riviera Beach, FL 33404  - Royal Palm Beach, FL 33411 - South Bay, FL 33493  - The Acreage, FL 33412  - The Acreage, FL 33470  - Wellington, FL 33414

West Palm Beach, FL 33415 - West Palm Beach, FL 33417  - West Palm Beach, FL 33401  - West Palm Beach, FL 33409  - West Palm Beach, FL 33405  - West Palm Beach, FL 33406 - West Palm Beach, FL 33407

Choosing a selection results in a full page refresh.
Press the space key then arrow keys to make a selection.